Purlins are longitudinal, horizontal bars or beams used for structural support in buildings, primarily in roofs. They also help to increase a building's resistance to heavy winds and earthquakes. Today purlins are commonly manufactured from galvanised steel (the galvanisation process helps to protect against corrosion and rust). Steel is also popular construction material as it is lightweight, durable, strong and resistant to termites and other pests.
What Is The Difference Between a Purlin and A Rafter?
Purlins and rafters both provide structural support to a building. Rafters, usually made from wood, are the beams that are angled upwards from the ground. They meet at the top of the gable at a ridge beam (the ridge beam usually has an extra bracing to attach it to the rafters). Purlins, on the other hand, are large beams perpendicular to the rafters.
What Types of Purlins Are There?
There are two different types of purlins: C purlins and Z purlins. As the name suggests, C purlins (pictured below) are manufactured into the shape of the letter 'C' while 'Z' purlins (pictured above) are manufactured into the shape of the letter 'Z'. C purlins are primarily used to shape a building's shell structure wall and floor joists while Z purlins are built to shape a building's shell structure's roof and wall joists. Z purlins are stronger than C purlins due to their overlapping capability.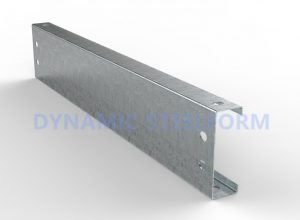 How Dynamic Steelform Can Help
If you need purlins for your next construction project, Dynamic Steelform is here to help! Our C and Z purlins are made from high tensile G550 Z350 galvanised steel and come in a range of different sizes and thicknesses. All of our purlins can be rolled, cut or punched to suit your requirements. To discuss your project requirements please contact us on 08 9434 6888 or visit our facility at 7 Cartwright Dr in Forrestdale, Western Australia, during our business hours.